Costas Bekas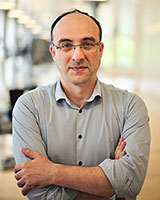 Costas Bekas is managing the Foundations of Cognitive Computing group at IBM Research-Zurich. Costas's main research interests span High Performance Computing, massive scale analytics and cognitive computing, energy aware algorithms and architectures.
Costas received B. Eng., Msc and PhD diplomas, all from the Computer Engineering & Informatics Department, University of Patras, Greece, in 1998, 2001 and 2003 respectively. Between 2003-2005, he worked as a postdoctoral associate with prof. Yousef Saad at the Computer Science & Engineering Department, University of Minnesota, USA. He has been with IBM since September 2005.
Costas received best papers awards at key venues such as IPDPS and NIPS, he is also a recipient of the PRACE 2012 award and the ACM Gordon Bell 2013 and 2015 prizes
Daniel Ramón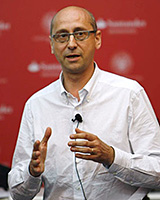 Daniel Ramón obtained his PhD degree working at the Department of Molecular Genetics of the pharmaceutical company Antibióticos S.A. Then he moved to the University of Wageningen in The Netherlands as a post-doc. He was Professor of Food Technology at both the National Spanish Research Council (CSIC) and the University of Valencia. Currently he is vice president of R&D on Human Nutrition at Archers Daniel Midland (ADM) and Chief Scientific Officer of Biopolis, a microbial biotech company subsidiary of ADM. He is author of 150 articles in peer reviewed journals and co-author of more than 100 patents, most of them transferred as products in the market.